Round or square, long or short — is there anything more to nails? Well, there's actually a lot more to nails than what you've known all these years. Of course, at this point, we're talking about nail designs — the right choice can leave your nails looking chic and drop-dead gorgeous.
While we have several different options including almond nails and stiletto nails – this post is going to focus on one that's loved by classy women the world over, coffin nails! A big hit among celebrities and stylish ladies, these tapered nails (which are squared off at the ends), are just what you need to stand out and steal the show wherever you go.
And if you need some coffin nail design ideas to complete your look this season, here are a few chic and on-trend options you'll definitely want to try.
10. Nude Coffin Nails
Nude is an excellent choice for the chic and sophisticated fashionista. It goes excellently well with everything from crystals to glitters to rhinestones and more. That said, you won't be wrong to sport it for parties, night out and the likes. The subtlety of nude coffin nails (especially those glitters) also make it perfect for work and formal events.Bu gönderiyi Instagram'da gör
Application only 🥵🥵#nails #acrylicnails #nudenails #nudeset #coffinnails #nudecoffinnails #nailapplication #application #cltnails #cltnailtech #cltnailtechs #cltnailsalon #charlottenails #charlottenailtech #charlottenailsalon #704nails #704nailtech
✨ Charlotte, NC ✨ 19 (@juicedbyju)'in paylaştığı bir gönderi (12 Eyl, 2019, 8:08ös PDT)
9. White Coffin Nails
Got a thing for the pure hue, white? If yes, you'll be happy to know that it looks absolutely gorgeous with coffin nails. And perhaps the best thing about this striking color is that you can spice things up with a shiny or a matte finish — just perfect to turn heads!Bu gönderiyi Instagram'da gör
💧💧 #apresnailofficial #gelxnails #apresnails #apres #gelx #nailsofinstagram #nailsonfleek #nails2inspire #whitenails #coffinnails #whitecoffinnails
✨Nailsbya✨ (@nailsbya.7)'in paylaştığı bir gönderi (4 Ağu, 2019, 4:16ös PDT)
8. 3D Coffin Nails
Yes, it's exactly what it sounds like — dress up your coffin nails with eye-catching 3D designs. You can choose from a variety of choices including studs, gems, flowers and more. Think picture-perfect nails with an artistic twist.
7. Black Coffin Nails
As you rightly guessed, black coffin nails appeal to women who fancy a daring and edgy appearance. These striking color looks stunning with metallic details and of course, perfect with shine and matte finishes.Bu gönderiyi Instagram'da gör
Black nails #sdnails #shaylavnails #sdnailartist #blacknails #nailsofinstagram #naildesigns #nails #nailsonfleek #blackcoffinnails #nail #nailife #nailinspo
‼️NO DMS, TEXT ONLY‼️ (@shaylavnails)'in paylaştığı bir gönderi (19 Eki, 2019, 7:35öö PDT)
6. Matte Coffin Nails
Need a design for that much-anticipated evening event? If yes, you won't be wrong to go with matte coffin nails. For this style, you can try several different shades including red, white, nude and pink — trust us, your nails are sure to look classy and on-trend!Bu gönderiyi Instagram'da gör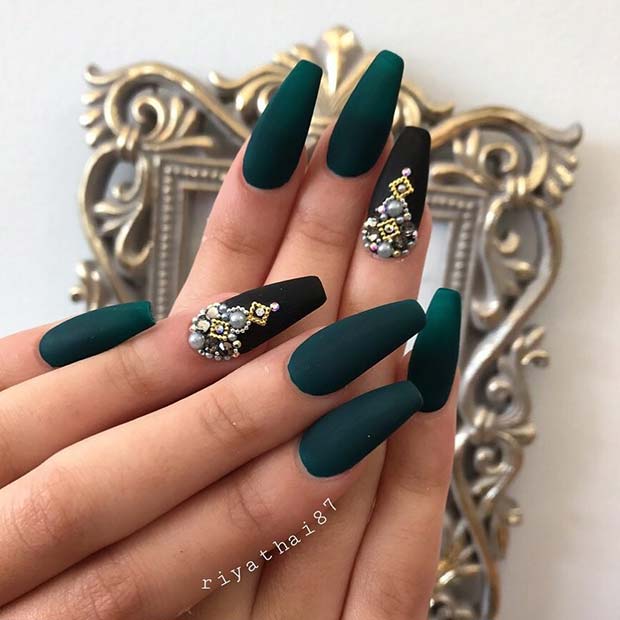 D061 #mattenailspolish #holidaycolor #burgundynails #coffinnails #mattecoffinnails
TJ Nails (@tjnailsalon)'in paylaştığı bir gönderi (12 Kas, 2017, 5:14ös PST)
5. Coffin Shaped Acrylic Nails
Finding it hard to grow out your nails to rock the coffin shape with style? Don't fret. You can always make things work with acrylic nails – the perfect way to get the eye-catching length you've always wanted.Bu gönderiyi Instagram'da gör
Good morning everyone!#acrylicgelpolish #acryliccoffinnails #acrylicdesign #mablenailart #mablenails #gelnailsdesign #gelmatte#tapenailart
Serenitynailspa (@serenitynailspas)'in paylaştığı bir gönderi (30 Ara, 2018, 8:43öö PST)
Want to see more of acrylic nails? See this post!
4. Red Coffin Nails
Let's switch to fierce nails — your best bet to look hot and sexy for a date night or girls night out. Red coffin nails never fail to make you stand out wherever you go and that's exactly why we love them!Bu gönderiyi Instagram'da gör
And sometimes self care looks like a bomb ass red ❤️ . . . @badgalriri as the Inspo 🍒 . . . My favorite red @agehagel #3 💋 . . . #__luxk #rednails #agehagel #japanesegel #apresgelx #gelextensions #redcoffinnails #coffinnails #coffinnailshape #nontoxicbeauty #naileducator #gelxnails #nycnailtech #nycnails
Apres Gel X Specialist (@__luxk)'in paylaştığı bir gönderi (5 Ara, 2019, 12:52ös PST)
3. Cute Coffin Shape Nails
It's just what it sounds like — styling your coffin nails with super cute designs. The good thing is, you have lots and lots of options – think glitter accents, mint green, and nude look. It's all up to you to get creative and of course, stick to what holds your fancy.Bu gönderiyi Instagram'da gör
#simplecutenails #flowernails #naturalpinknails #cutecoffinnails
Gigis Nails (@gigis_nails1431)'in paylaştığı bir gönderi (9 Eki, 2019, 12:04ös PDT)
2. Transparent Coffin Nails
Keep your nails simple yet stunning with a stylishly transparent design. It's as simple as applying a striping tape to your nails before using your favorite polish. You can then remove the tape once the polish is dry and bask in the beauty of your gorgeous nails!Bu gönderiyi Instagram'da gör
Transparent nails+ pinks 😍😍😍😍 . . . . . @nails.c0m for daily nail posts🔥 . . . (C): @longnailsdontcare
Nails.com (@nails.c0m)'in paylaştığı bir gönderi (5 Haz, 2019, 12:01ös PDT)
Want to see more of transparent? See this post!
Transparent Nail Designs
1. Elegant Coffin Shaped Nails
Last but not least is a design that appeals to elegant women the world over, most especially brides after a chic, on-trend look for their big day. Add a sophisticated design to the mix and your nails will leave heads turning and set tongues wagging.Bu gönderiyi Instagram'da gör
#nails💅#crystalnailshungary #nailstagram💅 #elegantnails #swarovskinails
Varga Emoke (@varga.emoke)'in paylaştığı bir gönderi (6 Ara, 2019, 12:11öö PST)
Want to see more of elegant nails? See this post!
So what's your favorite design? Nude, black, white, transparent or cute coffin nails? Well, whichever design you choose, just have it in mind that your nails are sure to look stunning. That's the beauty of coffin nails!